I have had trouble sleeping for the past 4 years.  Whenever I can't sleep, I pull out my phone and read my scriptures.  And that's what I'm doing right now.  Except this time, I'm going to write about it.
As a lot of changes and things are happening in my life, I am learning more and more about myself.  I am learning about my own weaknesses, my ways of communication, the ways I handle stress, and am discovering more and more insecurities that I have.
Amidst all of this, I turn to my Heavenly Father in humble prayer, begging for His help every day to help me accomplish all that He wants me to do.  And He always gives me the power to do it, when I obey Him.  He also assures me that He loves me and that He is proud of me.  He knows that I'm not perfect, but He knows that I am trying my best to grow my faith in His son, Jesus Christ, and repent daily.
We are all weak.  No one is perfect, and at times, it seems that we honestly just want to start over.  We offend someone, we want to make it right.  Each of us struggles with different things and each of us has a billion things that we probably would like to change about ourselves.  That's life!  Every time I feel bad about something, I am filled with an everlasting hope that I can change.  I can change, and I can start over.  My Heavenly Father gives me that chance every day, thanks to His son, Jesus Christ.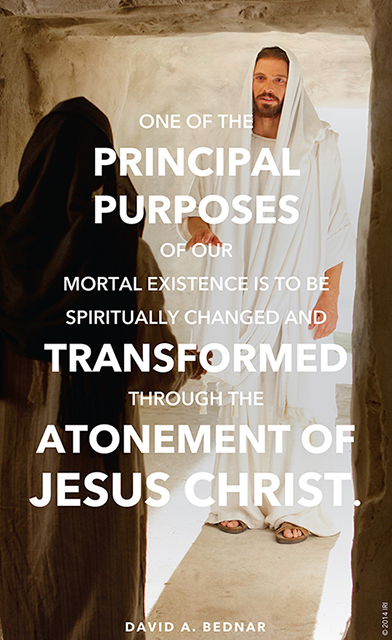 I know, with all of my heart, that He can change me.  Not only does He give me a fresh start every day, but He empowers me.  He enables me.  Not only because He died for me, but because He rose again. Because Christ conquered death (actual death, and spiritual death – sin, messing up, doing things we're not supposed to do) He gives us the ability to do the same.  It's the most beautiful expression of love in the entire world.
There is a beautiful scripture in the Book of Mormon that explains this:
For the natural man is an enemy to God, and has been from the fall of Adam, and will be , forever and ever, unless he yields to the enticings of the Holy Spirit, and putteth off the natural man and becometh a saint through the atonement of Christ the Lord, and becometh as a child, submissive, meek, humble, patient, full of love, willing to submit to all things which the Lord seeth fit to inflict upon him, even as a child doth submit to his father.
Yeah, we're not perfect.  But we can become perfect in Christ, as we submit to His will.  He will help us become everything we've ever wanted to become.
I know this because I have prayed about it.  I know this because He changes me every time I ask Him too.  I know this because every time I mess up, He forgives me, over, and over, and over again.
This is a beautiful video that always helps me feel the Spirit.  Even if you've watched it a billion times, watch it again, because I promise you, you will feel something.
Love you all.  Please watch.  I promise your day will become better.  And I promise, if you're ever looking for a fresh start, a clean slate, or a chance to begin again, the Gospel of Jesus Christ will do that for you.  Because of Him.
Love,
Emma
https://emmaletters.com/wp-content/uploads/2015/03/400-Again-and-again-meme.jpg
400
400
Emma
https://emmaletters.com/wp-content/uploads/2016/07/cropped-Emma-Blog-Logo-3-1-1-1024x205.png
Emma
2015-03-18 06:06:48
2016-09-01 21:22:50
change of heart